Oz, Madge, Nazis and Moneyball: It's all bad news in scriptland
If you know me (and if you do, I'm terribly, terribly sorry) or have been following my blogs for the few years I've been doing them at OW (again, terribly, terribly sorry), then you know I'm a big fan of screenwriters and scripts and anything scripty. Yes, it's a passion of mine – I was a script reader in L.A. for several years – but I've always sincerely felt it's the real foundation of movies. You can ruin a great script, but you can't make a bad script great. Screenwriting is not the "blueprint" for films, as many suppose…it's what everything else depends on.
To that extent, I try to read as many as I can get my hands on, with the help of a few great – and sometimes crazy – friends in the industry who, for whatever reason, get just as excited as I do about these 11o-page stories. They tend to indicate what direction Hollywood's leaning, and what's being valued out there. It also tells me what to get excited about for the years to come.
This week, I've been pretty deflated by a string of bad script news.
Most recently is the disheartening (but potentially good in the end) word that Sam Raimi has been officially attached to Oz, the Great and Powerful, Disney's Wizard of Oz prequel that they're hoping is the next Alice in Wonderland. I'm not bummed about Raimi…much. But I'm cautious over the news that Disney's also hired Pulitzer Prize-winning scribe David Lindsay-Abaire to rewrite Mitchell Kapner's excellent April 2010 script for it. I don't know much about Lindsay-Abaire – he may be brilliant. But Kapner's fast-paced, colorfully drawn, clever screenplay was a blast to read, especially envisioning Robert Downey Jr, who may still sign on, as the con man Oz. Here's hoping Lindsay-Abaire keeps a sense of the fun and romance that Kapner brought to it.
I also got the chance to read Aaron Sorkin's script for Moneyball this weekend, the story of Oakland A's GM Billy Beane (pictured right, to be played by Brad Pitt), a once heavily scouted baseball star who washes up at the front office in Oakland and is told he's losing his big stars (Jason Giambi and Johnny Damon) and has virtually no money to rebuild with. He then meets Paul DePodesta, a statistics nerd who majored in "irrational behavior" who thinks knows he has a spreadsheet that tells him exactly how to win at baseball. The two put together a ragtag team of mostly wash-ups and embark on a record-breaking winning streak. It's based on Michael Lewis' non-fiction book of the same name and it's fast, smart, funny and wholly engrossing.
In other words…it's The Social Network, which Sorkin also wrote. Or at least that's what the world will think by the time Moneyball is released next year. That's a shame, because it's actually much different in tone and heart (meaning it has one). Beane's character isn't a tragic sociopath – he's flawed but a family man, has a temper but cares deeply about his job. And DePodesta (Jonah Hill) is a bang-up character, though he's been "renamed" Peter Brand because DePodesta just couldn't stand being portrayed as interesting.
So, good news for script lovers. Bad news, probably, for Sorkin, who may have even more people waiting in the wings to bring him down if he wins the Oscar this year for Social Network, which seems likely.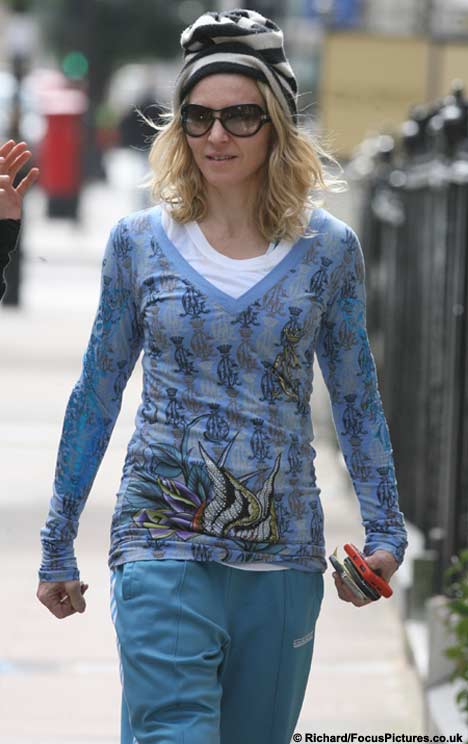 Finally, we have Madonna. Sad, sad Madonna, who's decided to dip her toes into writing and directing with the incredibly ill-advised W.E., a Julie & Julia-style modern-period switchoff piece depicting both King Edward VIII and his controversial love, Wallis Simpson, as well as their modern-day parallels, insufferable socialite and Sotheby's employee Wally Winthrop and her Air Force stud husband, William, a "quintessential WASP." She's trying to get pregnant and there's drama. Oh, delightful.
I wondered from the start how the Kabbalan princess would handle a period romance between two historical figures who also happened to have been Nazi sympathizers, at best, and traitors who could've brought down the world at worst. Madonna's answer: Don't! Not really, at least.
See, King Edward VIII abdicated his throne in 1936, and it was thought to be because of his marriage to an American divorcée (Simpson). But government files released since then indicate that it was actually because of their Nazi ties and plans to possibly install Edward as a Quisling King, a Hitler puppet who could bring England and Germany together in united world domination.
Romantical, no? Well, Madonna's script tackles the subject head-on, if you think "head-on" means a quick dinner conversation. Check out this dinner-time conversation between the modern-day (well, 1990s) couple about the issue:
William: They were Nazis. Or at least Nazi sympathizers.
Wally: Says who?

William: Everyone.
Wally: Everyone?
William: It's common knowledge. They went to Germany in the 30's, met with Hitler.
Wally: Because Edward was desperate to avoid War. A lot of patriotic English people were. Maybe they were naive, that doesn't make them Nazis.
William: It's all documented Wally.
Wally: It's not actually. Most of it's based on rumor and innuendo. A lot of which was put out there to undermine his popularity.
William: Let's agree to disagree.
Wally: Fine. I thought Doctors relied on empirical evidence, not gossip.
William leans in and nuzzles her neck.
William: But, I'm off duty tonight…
Right?! WTF! That's literally the only time it's mentioned, except for some insinuations here and there. Otherwise, it's all fodder for some sexual tension, baby. Here's the trouble:
and….
Doesn't look like solemn war-avoidance discussions, does it? Of the visit, Joseph Goebbels wrote: "It's a shame he is no longer king. With him we would have entered into an alliance." Then there's this bit, from an FBI report on the couple, as reported in the Daily Express:
In July 1940 the German ambassador in Lisbon passed a message to Berlin saying: "The Duke believes with certainty that continued heavy bombing would make England ready for peace."
The former king was urging the bombardment of his own people.
Finally, after the British were rid of the pair and exiled them to the Bahamas, Edward said this: "After the war is over and Hitler has crushed the Americans we'll take over. The British don't want me as king but I'll be back as their leader."
Now, I'm not saying Madonna's lost her damn mind. If you believe what was put out to the world at the time, Edward and Wallis were a tragic couple, punished simply for being in love and of different classes. There's a romance movie in there, sure, and Madonna was probably just a little too keen on telling it without considering how it might appear with what we know now. I get it.
But not acknowledging these things, or worse, doing so over a brief Manhattan dinner conversation and considering the matter closed? (And this isn't just based on the script; Madonna clearly expressed in a May Interview magazine feature, that she brushes off the accusations entirely: "But people have accused Wallis of all kinds of things. They've said that she put a spell on Edward. They've said that she was a hermaphrodite and that he was gay. They've said that they were Nazi sympathizers. It's just the usual lynch-mob mentality that descends upon somebody who has something that lots of other people don't have. They have to diminish you by saying there's something wrong with you, or accuse you of something that they really don't have the knowledge or the right to.")
That's crazy. Like…Madonna crazy.